ENGRAVENCARD COLLABS
Iconic Designs. Crafted in collaboration.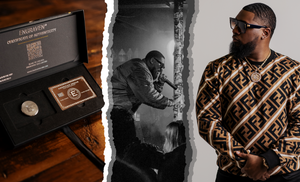 Engraven x
GAUTHIER COURSERGUE
GAUTHIER COURSERGUE, Gucci is a renowned Brand Strategist and Designer based in Paris. His passion for travel has greatly influenced his approach to creating distinctive brand identities globally. He has a keen eye for customization, a skill exemplified in his work with Engraven, where he infuses uniqueness into everything he touches.
Shop Designs
Engraven x
JERREL LARKINS
JERREL LARKINS, a renowned tattoo artist and Ink Masters alum. Merging skill and creativity: his artistic prowess shines through in blank canvas he's transformed. Jerrel's reputation marks him as a standout artist in the world of tattoo artistry.
Shop Designs
Engraven x
RICHIE EVANS
RICHIE EVANS, an independent powerhouse in music. He's earned notable endorsements from brands like Nike and Vitamin Water, all without major label support. His innovative style positions him as an emerging leader in the industry.
Shop Designs
Have Questions About Engraven?